Day 28! We are at the end of our four-week mark and I think it's important I continue these weekly update. In the later future, I plan on looking back at these updates to see the evolution of  this adventure. These will be like markers on this soon to be long journey.
First off, let's talk about some numbers that I am extremely proud of. After our first twenty-eight days of bloging, I have officially reached over 1100 views. This number may sound small in the grand scheme of things but this first thousand is beyond important to me. This number is so important in keeping me motivated to continue this passion of mine. It is all thanks to you!
Now, let's look at a few of the analytics of my website. The three countries leading the charge with the most views are USA, India, and France (<3) with Canada not to far behind. Most of my traffic comes from Facebook with a staggering 582 clicks, almost 400 more than the next. I average about one comment per-post on wordpress and above 3x that amount on facebook. I am extremely pleased with these numbers for my first month.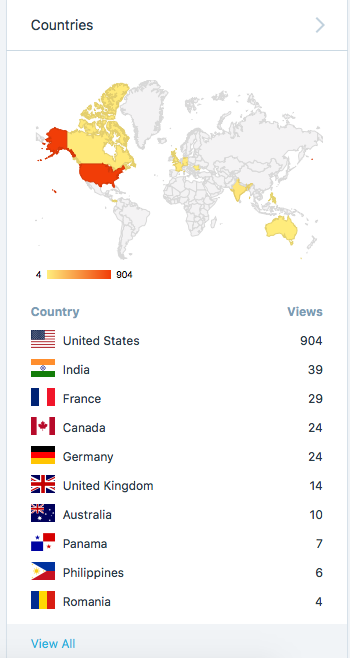 What do I have planned for the future? July is going to be a huge month for this blog. I am starting my monthly book reading club and I have already chosen the book. I think it will surprise a few of you but it is one of my favorite movies. I am also working on getting the funds together to move to a more professional looking site. Hopefully, that will happen sooner than later. I will be making a dedicated Facebook, Twitter, and Instagram so you will be able to better follow me. Last but definitely not least, I have been accepted into the Amazon affilate program. This will give you the opportunity to support by just shopping on Amazon with my special link. I will be releasing this link very soon, keep your eye out for that!
Update #4 has come to an end. Tomorrow, I have a somewhat controversial article coming out but I think it is an interesting topic. For now, I wish you a happy rest of your day. See ya' tomorrow!
Here's a picture from Yellowstone a few years back.